Social Events & Industry visits
Cultural event: Acropolis museum visit
Thursday, 12th of November, 18:15-20:00
The Acropolis Museum granted us the rare opportunity and will open exclusively for the Nonthermal Processing Workshop participants! The Acropolis Museum was founded to exhibit all the significant find from the Sacred Rock of Acropolis where Parthenon, one of the most famous monuments in the world, is located.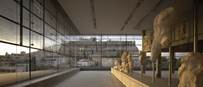 On Thursday, November 12, at 18:30 the museum will welcome us for an afterhours guided tour throughout the permanent exhibitions. The guided tour will be followed by the Workshop dinner.
Workshop participants will be transferred from Divani Caravel Hotel to the Acropolis museum by buses. One bus will leave every 15 min, at 18:15, 18:30 and 18:45. Guided museum tour duration is approximately 1 hour.
Dinner: "Hytra" restaurant
Thursday, 12th of November, 20:00-23:00
The Workshop dinner will be in "Hytra" Restaurant. The restaurant "Hytra", whose name derives from the ancient Greek terracotta vase, in 2010 was awarded its first Michelin star and has retained it since. The restaurant is located on the 6th floor of the Onassis Cultural Centre, Athens' new cultural space hosting events and actions across the whole spectrum of the arts from theatre, dance, music, cinema and the visual arts to the written word, with an emphasis on contemporary cultural expression.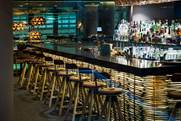 Workshop participants will be transferred by bus after the Acropolis Museum Tour to the Hytra restaurant.
Industry visit: Creta Farms S.A. & P.G. NIKAS AVEE
Saturday, 14th of November, 09:30-12:30
A tour to a Greek meat producing companies, Creat Farms S.A. and P.G. NIKAS AVEE, using high pressure technology will take place on Saturday, 14th of November, 2015. The industrial sites are located in the suburbs of Athens. Industry visit is only for a limited number of participants. Participants that want to join the industry visit must contact workshop secretariat: npd2015@chemeng.ntua.gr no later than Friday 30th of October.
Workshop particpants will be transferred from Divani Caravel Hotel to the industry site by bus. Bus will depart at 09:30 and is anticiapted to be back to the hotel approximately at 12:30.
Lunch on Athens seaside coast
Saturday, 14th of November, 12:30-15:30
After the industry visit workshop participants are invited to join the hosts for lunch in the seaside coast of Athens. Participants will be transferred form Divani Caravel Hotel to a seaside restaurant by bus and back to the hotel. Lunch will be on participants' own costs.